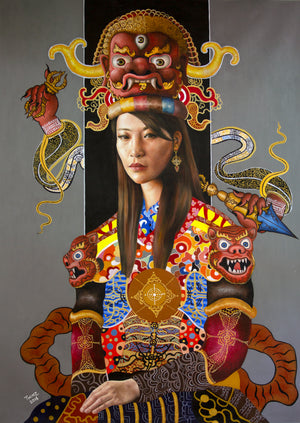 TWINZ Artists
'THE GUARDIAN OF THE TRANSCENDENT WORLD' - Contemporary Bhutanese Painting
Sale price Price $4,500.00 Regular price Unit price / per
Tax included.
Shipping
calculated at checkout.
TWINZ Artists, Bhutan
Title: The Guardian of The Transcendent World (2018)
Medium: Oil and Acrylic on Canvas 
Size: 150 x 190 cm (59 x 75 in)
This is a unique piece of contemporary Bhutanese Art created and hand-signed by the TWINZ and includes a certificate of authenticity. Only available on www.inspiredbybhutan.com

Widely regarded as 'one' of the most talented contemporary painters in their home country, identical twin brothers Tashi Dendup and Ugyen Samdrup live and work at 2300m above sea level in Thimphu, the capital of the Himalayan Kingdom of Bhutan. Since 2014, going by the artist name TWINZ, they have been following their own distinctive professional path: they blend contemporary painting with ancient Buddhist and Shamanistic traditions and artistic expression. What makes them unique apart from their impressive art is that they work together on their paintings. They are 'two bodies with one soul'. Always inseparable. 
Read more about the TWINZ.

"The concept of the painting is inspired by Guru Dorji Dorlo (Guru Rinpoche) who in Bhutan and Tibet is regarded as second Buddha. Legend says that he rode on a tiger and then climbed up on a mountain and then meditated in order to subdue local deities." - TWINZ ARTISTS
In case you need further information, please send your inquiry to hello@inspiredbybhutan.com and we would be delighted to provide you with more details about the artwork, the artists, and Bhutan.