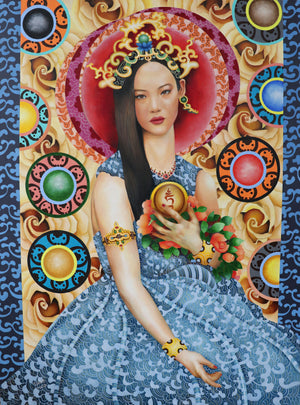 TWINZ Artists
'HOLDER OF THE TAM MEDALLION' - Contemporary Bhutanese Painting
Sale price Price $2,350.00 Regular price Unit price / per
Tax included.
Shipping
calculated at checkout.
TWINZ Artists, Bhutan
Title: Holder of the Tam Medallion (2020)
Medium: Oil and Acrylic on Canvas 
Size: 90 x 120 cm (35 x 47 in)
This is a unique piece of contemporary Bhutanese Art created and hand-signed by the TWINZ and includes a certificate of authenticity. Only available on www.inspiredbybhutan.com

Widely regarded as 'one' of the most talented contemporary painters in their home country, identical twin brothers Tashi Dendup and Ugyen Samdrup live and work at 2300m above sea level in Thimphu, the capital of the Himalayan Kingdom of Bhutan. Since 2014, going by the artist name TWINZ, they have been following their own distinctive professional path: they blend contemporary painting with ancient Buddhist and Shamanistic traditions and artistic expression. What makes them unique apart from their impressive art is that they work together on their paintings. They are 'two bodies with one soul'. Always inseparable. 
Read more about the TWINZ.

'TAM' is the sacred seed-letter that symbolizes Tara, a fully enlightened Buddha, who is the most beloved of all the female enlightened beings in the Himalayan Buddhist pantheon. The essence of awakened love and compassion, she is known as "the mother of all the buddhas" and "she who ferries beings across the ocean of samsara." By visualizing or reciting this seed-letter 'TAM' with strong concentration, one can invoke the great power of Tara and receive her blessings.
In case you need further information, please send your inquiry to hello@inspiredbybhutan.com and we would be delighted to provide you with more details about the artwork, the artists, and Bhutan.